Pink might be one of the most beloved celebrity moms on social media. 
The singer and her husband, Carey Hart, have a 7-year-old daughter named Willow and 1-year-old son named Jameson. Over the years, she has offered fans many glimpses into her life as a parent, from breastfeeding snaps to mom fail stories to moments of pure hilarity. 
Her candor when it comes to the realities of motherhood on social media and in interviews has resonated with moms and dads around the world. In honor of her birthday on Saturday, here are 21 awesome parenting moments from Pink.
1. When she posted a funny pumping selfie:
"And now this #pumpupthejams #mombreak," Pink captioned a hilarious mirror selfie that showed her pumping breast milk while in the U.K. for a few performances in August 2017. 
2. When she told a hilarious story about her toddler dropping the F-bomb:
While appearing on "The Ellen Degeneres Show" in October 2014, Pink shared a story about a time when then 3-year-old Willow ran up to her before a performance and declared, "I'm fucking here!"
"I was like, 'I'm sorry, I can't. My ears don't understand what you're saying,'" the singer recalled, adding that it was still quite funny. "It's so cute! I mean, I'm not encouraging it, but, come on, it's like a little 3-year-old body and then …"
3. When she trolled her daughter:
In July 2016, the singer played a trick on her daughter involving a green face mask. "I told Willow I was turning into Shrek. She actually believed me and got super worried and told me to stop it before it was too late. Parenting is fun," she wrote on Instagram. 
4. When she and her family rocked matching suits at the VMAs: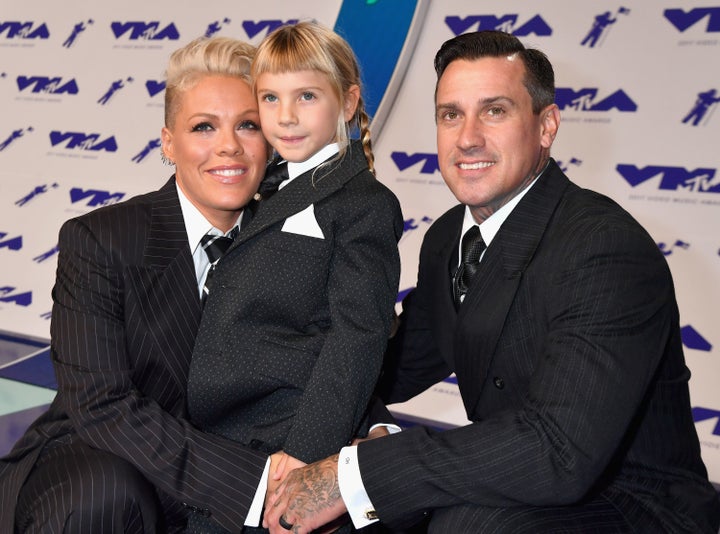 Pink matched her husband and daughter in a suit and tie at the 2017 MTV Video Music Awards, and the family totally stole the show. Later that night, while accepting the Video Vanguard Award, she gave an empowering speech about teaching her daughter to love herself.
5. When she recounted an emotional mom encounter at the grocery store:
In December 2017, Pink tweeted about a heartwarming parenting experience she had while shopping at the grocery store. Her reflection on the pressures of motherhood prompted a chorus of amens from her fellow moms.  
6. When she opened up about her miscarriage: 
Pink announced that was pregnant with Willow in 2010 on an episode of "The Ellen DeGeneres Show." The singer said she delayed making the announcement because of her experience with pregnancy loss. "I didn't want to talk about it because I was just really nervous, and I have had a miscarriage before."
Her 2012 song "Beam Me Up," which is reportedly about a close friend's experience with infant loss, has resonated with women who have experienced miscarriage and other forms of loss as well.  
7. When she shared her Elf on the Shelf fail:
Like many parents before her, Pink has succumbed to the pressure of Elf on the Shelf. In December 2017, the singer posted a photo of a note her daughter wrote to Santa Claus after her mom forgot to move the family Elf, Chippy. 
"Santa, I am worried about Chippy, he has been in the same spot for 3 days. I don't know why," the note read, according to the mom's kid-to-grown-up English translation. "Translation: MOM FAIL," Pink captioned the photo, along with the hashtag #elfonthesamedamnshelf.
8. When she captured a hilarious "family meeting" photo:
In August, Hart shared a funny photo that resonated with many parents. The picture, which Pink captured, shows the dad just trying to use the bathroom in peace as his kids interrupt for a family meeting. 
"Dude, can I just take a shit?? Family meetings always have to happen when I'm pissing off IG," he wrote in the Instagram caption. 
9. When she shut down breastfeeding shamers:
While appearing on "The Ellen DeGeneres Show" in September 2016, Pink calmly explained why it's weird to shame women for nursing in public. 
"[People have] strong opinions about things that don't affect their life at all. I'm feeding my kid. Would you rather him scream? Because he's very capable of that, too," she said. 
10. When she shared some too-real parenting texts:
In September 2017, Pink posted a screenshot of some hilarious texts that sum up how parents really feel about babies. 
"Why do babies cry so much. I feel like he's fucking with me at this point," Pink wrote … to which her friend bluntly replied, "Babies are cunts." The singer wrote back, "Hahaha. My next single." 
11. When she slayed the family Halloween costume game:
On Halloween in 2017, Pink posted some throwback photos showing her family costumes over the years. The best was her "all time favorite" costume when she, Willow and Hart went as "E.T." characters. 
12. When she got real about the most humbling part of parenting
When she appeared on the cover of People's Beautiful issue in 2018, Pink opened up about raising kids. 
"The thing about parenting is you never know if anything you're doing is working," she said. "That's been the most humbling thing for me. In my head, I sound amazing and then I turn around and [Willow's] eyes are completely glazed over. I have no idea. We'll see."
13. When she gave her daughter a cake with Matt Damon:
While appearing on "The Kyle and Jackie O Show" in April 2016, Pink revealed that her daughter loves the movie "The Martian."
"She asked me if Matt Damon can come to [her birthday party]. I think she has a crush," said the singer. Although Damon didn't make it to her birthday party in June, he was there in spirit, as Pink fittingly gave her daughter a "Martian"-themed birthday cake. 
14. When she normalized breastfeeding:
Over the years, Pink has shared many breastfeeding photos, including a sweet throwback picture she posted during World Breastfeeding Week in 2016. 
"I proudly post this photo of a very HEALTHY, NATURAL act between mother and child. Taken in Helsinki by a very supportive and proud Papa," she wrote in the caption. 
15. When she got real about her post-baby body:
Six weeks after giving birth to Jameson, Pink posted a selfie with her trainer at the gym. "Week 6 post baby and I haven't lost ANY WEIGHT YET!!!!" she wrote in the caption. "Yaye me!!!!! I'm normal!"
16. When she accidentally got her kid's age wrong:
In her 2017 documentary, "Beautiful Trauma," Pink had a slip of the tongue when she accidentally referred to her infant son as an 8-year-old. The funniest part was the exhausted mom's reaction to her blunder: "Ah, shit!"
17. When she shamed mom shamers:
After posting a photo of herself sitting in front of the microwave after heating her coffee in December 2016, Pink received criticism for her choice of beverage and proximity to the microwave while pregnant. 
Amused by the criticism, the singer tweeted a lighthearted Scary Mommy article about the shaming. "This was a really good laugh," she wrote. "Enjoy over a cup of coffee." She followed up with another tweet: "Uh oh. Now I'm a mommy shamer shamer."
18. When she marched for equality with her family:
The singer participated in the Women's March in Santa Barbara, California, on Jan. 21, 2017 ― along with her husband, daughter and baby son. 
19. When she and Willow rocked the CMA Awards red carpet: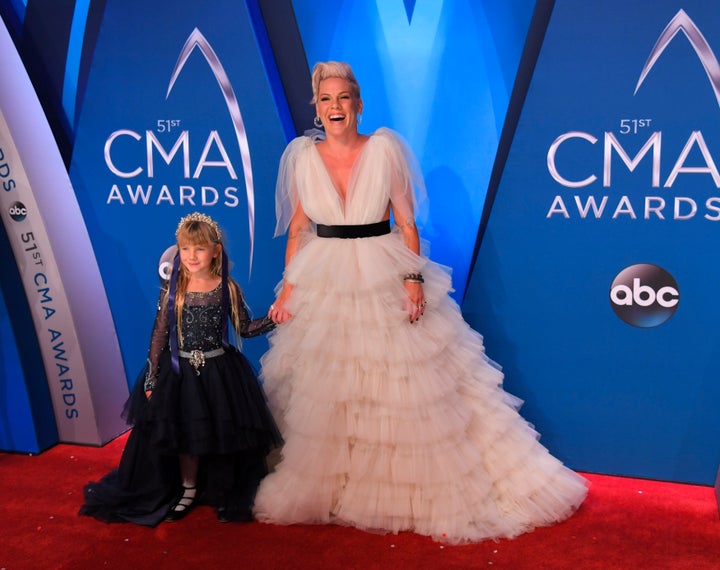 Pink brought Willow to the 51st Country Music Association Awards, where the mother-daughter duo wore ruffled gowns on the red carpet. 
20. When she posted the perfect pumping selfie for wine-loving moms:
In October 2017, Pink shared a pumping selfie featuring a hard-earned bottle of wine. "When you're almost done pumping and you know what's next," she wrote in the caption on Instagram.
21. When she summed up parenthood in one Instagram post:
In March 2017, Pink posted a photo of herself sleeping with baby Jameson on her chest. She captioned the Instagram picture, "Oh my god I'm so tired my soul has a headache but I'm so okay with it so whatever I'm just gonna take this little catnap real quick wake me up in ten seconds."